Effective Marketing Strategies and Ideas
To Help You Get More Business and More Profits


What marketing strategies and ideas have you been doing the same way over and over again while expecting different results? What have you been doing in your life day after day all the while expecting life to improve?
If you truly desire to make a positive change in your life, in your family and in the lives of your clients or customers, what is stopping you from having a greater impact? Everyone has dreams but few people have goals.
My name is David Kimball, your business consultant. I offer my expertise to help small service business owners achieve an improved condition. My unique and high impact small business consulting will take you from where you are at right now to where you want to be -- more business and more profits consistently and sustainably.
You and I do this together through an individualized marketing analysis at no cost which will identify many profit leaks that exist. And then upon your approval, I plug those leaks using a personal for your business blueprint of proven profit increasing tactics.
Here are the steps:
Marketing analysis.
Marketing Blueprint.
Attract more business and profits consistently and sustainably.
Achieve an improved condition.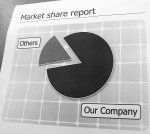 Let's sit down for a 30 minute no cost strategy session which will help clarify how you can increase business and profits which means that you will have more time spend with your family. Normally this is $97. However, because I want you get started now, if you take me up on this offer it is at no cost to you as a professional courtesy.
Please enjoy the very profitable programs available on this website at no cost to help you get and stay connected to your prospects and clients/customers.
You are also welcomed to put in your name and email address below to join my growing community of small business owners. You will be the first to know about my profit getting programs as well as other strategies and ideas I send out to help you grow your business and increase profits.
Helping you to learn, earn, and serve,

Return from About Marketing Strategies and Ideas
to Marketing Strategies and Ideas Home.