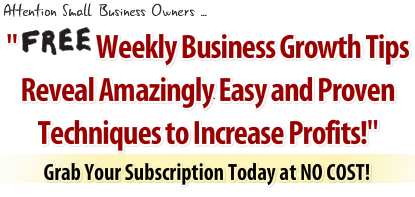 It is a given that people prefer to buy from people they know, like and trust. As you make contact with prospective clients and customers, it is going to be very important to be proactive... meaning YOU take the action to keep in touch with THEM.

Change and tweak your current procedures, or add new ones, to better serve your target market. Listen, your prospective clients and customers are going to purchase what you are offering anyways. Might as well be you!

These free weekly Small Business Growth Tips will help your brain stimulate new ways of getting your message out there to help them with your solution to their problem.
5 easy steps to Build an Email Marketing List
E-mail Marketing: Top Ten Services To Help You Connect
The 6 point email marketing checklist
14 market research tips to grow your business
5 quick steps to improve your website sales copy
And no, you do not have to buy anything and you may opt out at any time you are not receiving high value content to help grow your business.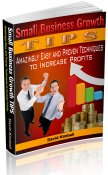 How to maintain your client relationships after the work is done
21 key benefits to online video
How to get great testimonials from your clients
How to get your foot in the door with new prospects
Grow your business with profitable joint ventures
5 secrets to successful word of mouth marketing
How to use the 80/20 rule to increase your productivity and make more money
Give me your permission now to deliver to you my free weekly Small Business Growth Tips by entering your name and email below. After confirming your subscription, the very first tip will soon land in your email box.
Dedicated to more business, more profits, and more time with your family ... guaranteed,





David Kimball
Return from Small Business Growth Tips to
Marketing Strategies and Ideas.